Coffee bars seem to be popping up in many people's kitchens lately. There is nothing new about having a coffee maker in the kitchen, but the new trendy way to decorate a space includes a coffee bar- perfectly decorated from floor to ceiling! Some coffee bars take up a small corner of counter space, a whole section, or even its own bar cart. If you're looking for some coffee bar inspiration, here are some of my favorites!
Tucked In The Corner
This is a super cute coffee bar for a small kitchen space, or if you are just looking to have the basics included in your coffee bar! The backsplash really pulls the colors together, and the flowers add a nice little pop of color!
I found similar canister on Amazon here. How cute!
2. Tiered Tray
This is another one that is great for smaller spaces! The tiered tray allows you to stack more cute coffee equipment and the quote in the frame paired with the flower wreath and candle makes for a cozy area!
Here is a similar stand also available on Amazon. HomeGoods and Marshall's/TJMAXX always have cute quotes, floral wreaths, and candles available to match the seasons or any home decor themes!

3. Cabinets for Coffee
This is a great idea for a coffee bar, especially if you need some extra kitchen storage as well! This is perfect for an empty or bare spot and wall in the kitchen! This one has the coordinating mugs on display as well, and the chalkboard can be a very versatile piece for any season!
This kitchen cart from Wayfair comes in black and white and is perfect for this coffee cart! I love Wayfair for anything for the home, they have many different kitchen carts to choose from! And of curse, Marshall's or TJMAXX always have a great assortment of cake trays, mugs, and racks, like in this coffee bar!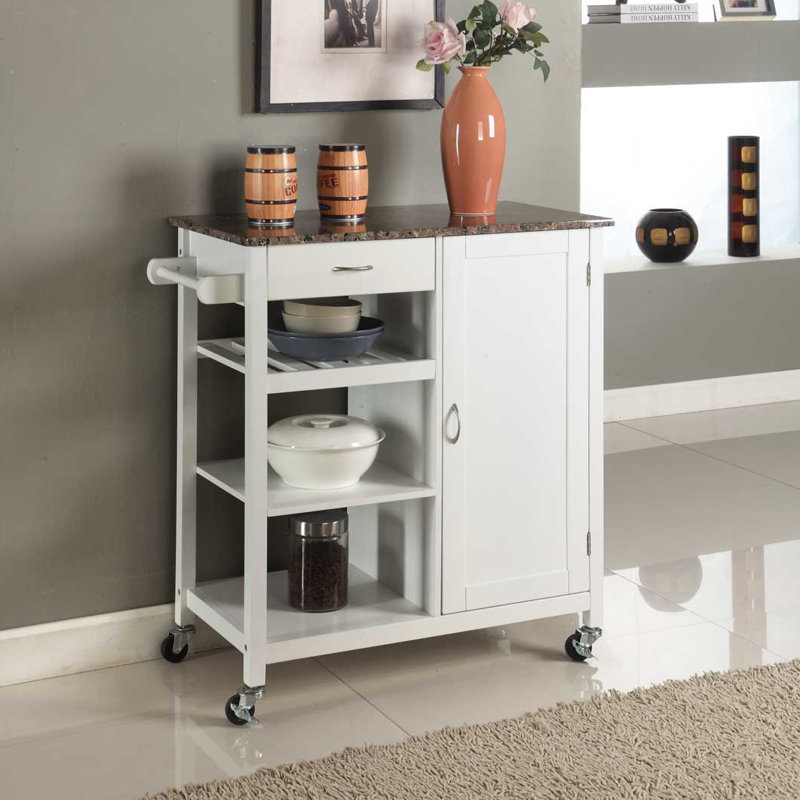 4. Farmhouse Dream Coffee
This is definitely one of my favorite of the coffee bars that I have listed! As a Fixer Upper lover, I have grown to love shiplap, and it certainly looks great here! I love the versatility of this coffee bar. The shelves are used as additional storage for mixing bowls, and baking needs in the jars!
I found this barn door style cabinet here from Houzz.
For more coffee bar inspirations, check out my Pinterest board: